Elana's Pantry comes up with a lot of winners. I've enjoyed several of her recipes.
This one
was absolutely divine. I see you saying to yourself, "But I can't make crackers! Don't they use special machinery for that?" Ah, but you can -- and you don't need special equipment. In fact, it's pretty easy. Here's what you'll need:
A mixing bowl (or a food processor)
A spatula
A baking sheet
Parchment paper
A rolling pin (I found it worked well to use a traditional rolling pin initially, then to switch to my single-hand rolling pin -- it looks like this: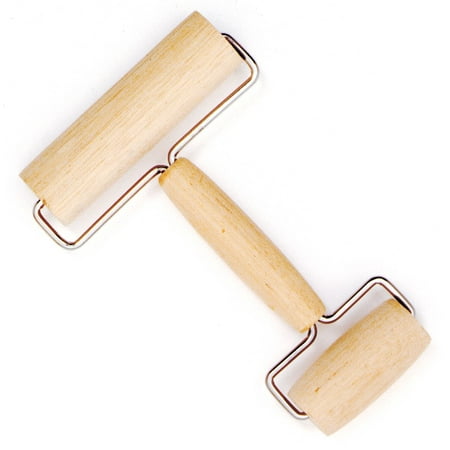 ...but you can make the crackers without one of those.)
Now, because I needed to make my own almond flour, I threw some raw almonds in the food processor and whirred them until they were as fine as I could get them (this is a noisy process. Don't do it while you're on the phone with your fiancé, or while your daughter is attempting to do her homework at the kitchen table). Then I dropped the rest of the ingredients in and mixed them together in the food processor as well. Rolling it out was easy, although it was tricky to get a uniform thickness. The crackers around the outside got a little extra-toasted, since they were thinner there. The rolling and cutting of the crackers is easier to do on the counter first, then move the entire thing to a baking sheet before putting in the oven.
p.s. The house smells delicious while they're baking.
close up of uncooked cracker dough
pre-baked, uncut crackers
baked crackers
mmmmm.... rosemary fig crackers
little stack o' crackers and ham
Rosemary Fig Crackers
1 ½ cups blanched almond flour
½ teaspoon celtic sea salt
1 teaspoon rosemary, minced
3-4 dried figs, chopped
1 egg
1 tablespoon olive oil
In a large mixing bowl, stir together almond flour, salt, rosemary and figs.
Mix in egg and oil until well combined.
Roll out dough between 2 sheets of parchment paper until ⅛ inch thick.
Remove the top layer of parchment paper.
Cut dough with a knife or pizza cutter into 2 inch squares.
Place on a baking sheet.
Bake at 350° for 10-12 minutes until golden brown.
Cool and serve.